Nothing beats a Mocha to start the day off! This Skinny Mocha is perfect to have that morning treat and protein! While I love a good Starbucks Mocha or the local coffee shop, the ingredients pack in calories and sugar. This is one of my go-to Weight Watchers iced coffee recipes!
(I have included affiliate links to products I love. As an Amazon Associate, I earn from qualifying purchases.) In addition, this post contains affiliate links that will make me a small commission when used to order online.
One of my new favorite things about being on Weight Watchers is learning to make my favorite foods and drinks healthier. Even if you are not on a weight loss journey, our bodies don't need that much sugar. And making drinks at home is more accessible on the budget as well vs. stopping at the drive-thru every day.
WHAT IS Weight Watchers?
When starting a new weight loss program or diet change, consult a doctor or physician about personal health concerns. It is a good idea to have blood sugar levels, blood pressure, and hormones checked at a physical before and during being on the WW program.
New to Weight Watchers?? Also known as WW, a weight loss program uses points assigned to food to track and lose weight. When you sign up, you take an assessment that will assign you a point value to eat daily and a weekly allowance. You can carry over 4 points from the day into your weekly budget, which is handy when you need more points.
I have been on Weight Watchers since 2011. They have had Points Plus Value, WW Smartpoints, Blue Plan, Green Plan, Purple Plan, WW Personal Points, and now Weight Watchers Points. The new Weight Watchers Simplified plan is the new program launched in November 2022, similar to previous plans like WW Smartpoints, with some color plans. ( You can see the Weight Watchers Zero Point Foods 2023 -> here)
No matter the WW plan, they work to help you learn healthy eating habits. I have hit lifetime goal weight several times but stopped operating the plan and tracking, so the weight does creep back on.
Right now, you can head on over -> here and sign up for WW for $10 a month for your first six months.
Ingredients
Jordan Skinny Syrup Mocha– Any brand of sugar-free syrup will be zero points.
Coffee– You can also do espresso shots, Cold Brew, or decaf coffee will also work in this drink if you do not want the caffeine. (You have no idea how excited I was to find you could buy espresso shots online!)
Chocolate Protein– You can use ready-to-drink protein or a mixed protein powder. I tend to be less motivated in the morning, so the carton protein shakes are my go-to.
Fat-Free Whipped Topping– The whipped topping can affect the calorie and Weight Watchers points to your mocha drink, so double-check the nutritional information.
Chocolate Sprinkles– This is optional but made for a fun-looking drink.
How TO Make
Start your coffee maker or espresso maker to brew if needed. I used a Keruirg for this one, but the other options work great.
I used a clear Venti Starbucks cup, but any large cup will work.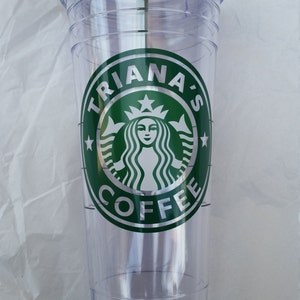 Etsy Starbucks Venti Cups

Amazon Venti Cups
Pour or pump your Skinny Mocha Syrup into your cup; I did four pumps of my syrup. The bottles of Skinny Mocha Syrup do not come with the pumps, but they have the syrup pumps on Amazon. (See them-> here) We have them on our fruit flavors for Red Bull Drinks as well.
Skinny Syrup Pumps
Skinny Mocha Syrup
Mix the syrup and protein shake together with a frother or whisk. The milk frother makes the protein shake foam up a bit, but it settles down once you pour in the coffee.
Pour the coffee or espresso into the protein shake and mix again.
Add in ice or enjoy as is. I wait to add ice till this step so it melts less when the coffee is added; if your protein shake is cold, it will immediately lower the coffee temperature.
Optional topping with whipped topping and sprinkles. I did not track the sprinkles as it was such a small amount, and the amount of topping I used was 0 points.
Skinny Mocha Weight Watchers Points
Now the only thing with points besides the sprinkles is the protein shakes! I have three go-to brands, all 30 grams of protein! With being active protein is a huge priority to me!
Fairlife Chocolate Protein Shake– 3 Weight Watchers points per bottle
Premier Protein Protein Shake– 3 Weight Watchers points per carton
Pure Protein Protein Shake– 1 Weight Watchers points per carton
Weight Watcher Collections To Checkout
Are you looking for Zero Point food ideas? Check out this list -> here of all the Zero Weight Watchers points food.
These are easy Weight Watchers recipes made in my kitchen; most are kid-approved. Click on the name to be taken to them.
Premier protein shake recipes
I love to use ready-to-drink protein shakes to make drinks at home. They are so easy, and they taste amazing! These are the ones my family has made and love!
READY TO DRINK PROTEIN SHAKES:
If you don't have a Costco, Amazon has some of the best prices and a secure shopping platform for grabbing these! Plus, you can't beat delivery to your door.
These shakes are 11 Fl Oz and Have 30 Grams of Protein and only 1g sugar in each with a creamy texture! They do have artificial flavors, but I don't find them too potent or fake flavored. They have been an excellent tool for weight loss as they are quick and easy and make great drinks recipes!
If you are looking for other tasty ways to get in more protein, Premier Protein protein bars and the Premier Protein Cereals are delicious.
Weight Watcher Collections To Checkout
Are you looking for Zero Point food ideas? Check out this list -> here of all the Zero Weight Watchers points food.
These are easy Weight Watchers recipes made in my kitchen; most are kid-approved. Click on the name to be taken to them.
Weight Watchers Mocha
Indulge in the rich and creamy flavors of this Skinny Mocha! This guilt-free treat is the perfect way to satisfy your sweet tooth without sacrificing your health goals. Plus, the added 30 grams of protein from the protein shake! Top with sugar-free whipped topping! Works out to 3 or less Weight Watchers Points!
Instructions
Start your coffee maker or espresso maker to brew.

Pour or pump your Skinny Mocha Syrup into your cup.

Mix the syrup and protein shake together with a frother or whisk.

Pour in the coffee or espresso and mix again.

Add in ice or enjoy as is.

Optional topping with whipped topping and sprinkles